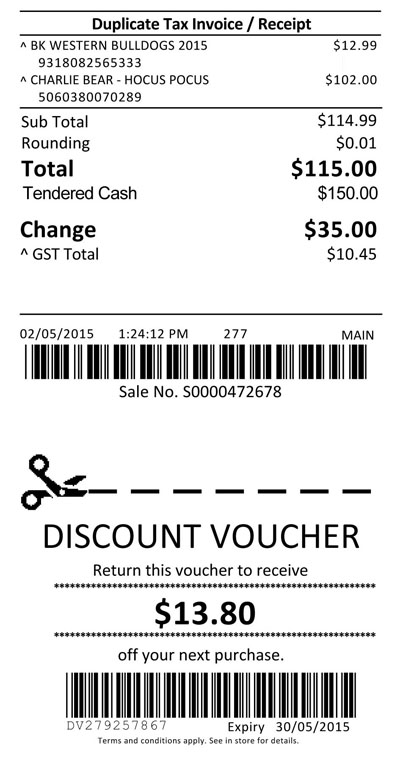 With many retail businesses running points based loyalty programs, differentiating is key for businesses that want to stand out. This is why our discount voucher loyalty program is loved by plenty of our POS software customers.
First up, while we call them discount vouchers, you can call them whatever you like. We have customers who call these receipt-based vouchers Our Thank You Gift or Bonus Bucks or Customer Reward..
Discount vouchers have been shown to deliver terrific sales boosts. Comparing sales over Christmas 2019 and New Year 2020, we have seen businesses achieve 12% sales growth through the active use of discount vouchers.
Typically, guys will want to spend the vouchers right away while girls keep them and often use them before they automatically expire.
Discount vouchers are easy to setup and run. Our support team can help with this. You can be live in minutes. You can easily change the settings too. The control you have is terrific and the shopper engagement reporting excellent.
Discount vouchers genuinely differentiate your business.
You name the voucher anything you like and can change this at any time.
You set the rules on how the value of the voucher is calculated.
You set the rules on what the voucher can be redeemed for.
You set the rules on expiry dates.
Male shoppers are more likely to spend the voucher immediately and many customers use the voucher to purchase items more expensive than the items in the initial purchase made. Customers see the voucher as cash, often commenting that they like the direct approach better than a points-based system. They like the transparency and simplicity.
In our own retail experience, which sees us competing against major retailers in a Westfield shopping centre, several shoppers have stated they prefer Discount Vouchers over the rewards programs of our competitors.
We are confident that Tower Systems' Discount Voucher facilities can help you:
Get customers spending more in a visit.
Bring existing customers back sooner.
Attract new shoppers to your business.
Drive impulse purchases at the sales counter.
Buy X Get Y Free
The "buy x, get y" pitch is a common offer in retail businesses, especially those that sell everyday items such as pet food, magazines, garden mulch and other consumable items.
In the Tower Systems software loyalty facilities you have access to a powerful and configurable BUY X GET Y facility. You can use this to track shopper engagement and ensure proper rewarding of the free product at the right time. This is an excellent tool for driving shopper loyalty without the usual manual overhead of clipping cards or managing other processes. You can also report on the reward at the right time back to the supplier to ensure you are compensated for giving away the free product. Indeed, you have various detailed reporting options.
The BUY X GET Y facility has been developed with retailers in several channels as well as with suppliers to those retailers to ensure it meets the requirements of both business participants.
The total loyalty package in the Tower Systems software is comprehensive, flexible and tuned to offer retailers choice through which they can serve their own situation with confidence and success.